Over 50,000 slabs/steel bases sold since 2007. Made In USA With American Steel.
Thank you to R+L Carriers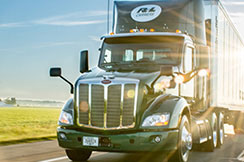 ... for continued safe and efficient LTL freight shipping services around the continental United States - going on 5+ years of great LTL freight services with R+L Carriers. We understand that safe and efficient shipping is key for any small business - and after experiencing several unsatisfactory LTL freight companies we have been beyond pleased with R+L Carriers and solely use this company for all of our LTL freight shipping needs.
You can calculate shipping within the website. Simply find the item you are interested in and click "add to cart". The next page will give you the ability to enter your shipping zip code. The shipment price is based on buyer location and the total dimensions/weight of the item(s). UPS Ground is used for any item(s) that are less than 108 inches length and under 150 pounds. Items are completely wrapped in layers of thick cardboard for protection.
***Due To The Nature In Which We Attach Top Mounting Plates To Pallets For Secure Shipping, We Do Not Recommend Using Our Steel Bases With Glass Tops - The Top Mounting Plates Can Incur Small Scratches And Blemishes. The Majority Of Our Bases Are Also Stored On The Top Mounting Plates Which Also May Give Them Scratches And Blemishes On The Top Mounting Plates*** Wood, Granite, And Marble Tops Will Cover Any Blemishes With No Issue.
*If ordering multiple items please contact me so I can verify that you are getting the lowest price possible for a combined order*
Any items that are over 108 inches length or over 150 pounds will be shipped freight. Please contact us if a freight quote is needed.
***We will need to know if the delivery address is commercial or residential and if a lift-gate is needed. Any additional fees incurred for freight deliveries will be the responsibility of the purchaser***
Pick-up is welcomed for any item(s).
Ohio Woodlands, LLC
17294 State Route 644
Salineville, Ohio 43945
(330) 506-9012
We strive to ship within 24 hours of any purchase. We also offer a daily UPS pick-up so items are shipped quickly.
Items are securely packaged in several layers of fluted cardboard.
***Check Out Our FaceBook Page***
***Check Out Our Instagram Page***
Select
Rename File
Delete
">